First App to Include Stock Prices, Socially Curated News from Hundreds of Sources, Trending Tickers and Real-Time Ideas on the Fastest Growing Mobile Platform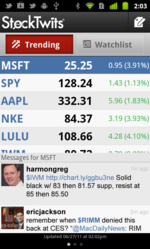 StockTwits for Android
"StockTwits for Android is the best way to see stock prices, trending news headlines and real-time ideas for specific stocks, while keeping up with new ideas in the market through Trending Tickers on StockTwits" – Howard Lindzon, CEO
StockTwits®, a real-time social idea network for the investing community and creator of the $(TICKER) tag for the widest syndication of investment information, today announced the availability of StockTwits for Android, making the app available on millions of mobile devices around the world. StockTwits for Android is the only mobile app for the Android platform that provides mobile users a place for stock prices, financial news from across the web curated and filtered by a community of investors and traders, trending tickers and real-time ideas from the StockTwits stream. The StockTwits Android app is available today at http://stk.ly/stdroid.
According to The Nielsen Company, more than one-third of consumers plan to make their next smartphone purchase an Android handset. With its rise in popularity and number of Android-powered handsets on the market today, StockTwits will give millions of consumers access to timely investing information on their smartphones. Unlike other Android finance and stock apps, the StockTwits app provides investors with everything they need to see real-time trends, news and ideas about the stocks they are interested in – and the opportunity to learn from talented investors and traders who are members of the StockTwits community. The app also allows users to share ideas directly from their phone, reaching the StockTwits community as well as the StockTwits distribution network of top social media and financial sites, including Yahoo! Finance, Bing Finance, CNN Money, Reuters, Twitter, Facebook and LinkedIn.
Key Benefits of StockTwits for Android Include:
Access to real-time stock quotes from the mobile phone
Headlines and links to the most important financial and stock news curated by the largest social network of investors and traders
The ability to create a "Watchlist" to quickly and easily access specific investments or ideas on the go
Stay on top of the market with the "Trending" view of stocks, which is a list of stocks being discussed most frequently
View and share real-time investment ideas by accessing the StockTwits network from anywhere
"The Android platform is growing exponentially, and with the new StockTwits app, we're able to give millions of investors a new way to stay in touch with the market from their mobile phones," said Howard Lindzon, co-founder and chief executive officer at StockTwits. "The app is the best way to see stock prices, trending news headlines and real-time ideas for specific stocks, while keeping up with new ideas in the market through Trending Tickers on StockTwits – features not found in any other mobile app."
About StockTwits
With offices in San Diego and New York, StockTwits is a real-time, social idea network for the investing community and creator of the $(TICKER) tag for the widest syndication of investment information. It provides a specialized environment created specifically for investors where users can customize information and networks based on interests and investments, and corporations can easily monitor, disseminate and manage communication within the social media environment. StockTwits was named "One of the Best Websites, 2010" by Time Magazine, and was listed as one of the "10 Most Innovative Companies on the Web" by Fast Company.
Tagged with: Android • Bond Fund • Bond Funds • Bond Market • Business • Capital market • CBOE • CEO • CFO • CME • CNNMoney • Commodities • Common stock • Dividends • DJIA • etf • Financial planner • Financial Services • Forex • FX Market • Gold • Howard Lindzon • Index fund • Industry • Inflation • Interest Rates • IPO • LinkedIn • Markets • Mergers & Acqusitions • Mutual Funds • NASDAQ • NYSE • OTC • Preferred stock • ROI • S&P • San Diego • SEC • Silver • Stock market • Stock Offering • StockTwits • Technology • Twitter • Venture capital • Wall Street
Filed under: Business
Like this post? Subscribe to my RSS feed and get loads more!