Teixeira describes the debt deal's potential impact on homeowners and prospective homebuyers.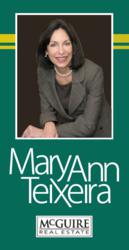 "Uncertain economic times will affect homeowners in time."
However, if homebuyers have been waiting for opportune market timing, this may be it. Interest rates are low, there is inventory out there, and we are working in a known market. Who knows what fall will bring.
Burlingame REALTOR Mary Ann Teixeira says that the debt deal and decrease in credit standing of the government not only affects the stock market, as have been seen the past few days, it will trickle down through the rest of the economy—especially to the housing market. Potential homebuyers need to know the facts.
"We are navigating a precarious course with the financial markets right now," said Teixiera. "With the passage of the debt deal, we will soon see it manifest itself on the housing market."
Teixeira says that it always takes time for the impact to really be felt. Right now the sell-off in the stock market has investors placing their money in Treasury securities, and because mortgage rates track yields on the 10-year Treasury notes, interest rates are low.
As part of the long-term spending cuts that must be agreed upon this fall, lawmakers have been debating a proposal for a simplified tax structure with lower rates and elimination of tax deductions.
Right now, home loan borrowers can deduct the amount of interest they pay on their mortgages from their taxable income. The interest deduction is capped at the first million dollars of debt on the home. There is a proposal now to reduce the cap to $500,000. Currently the deduction costs the U.S. Treasury about $100 billion a year. Reducing the cap to $500,000 would save the Treasury $15 billion.
"How the long term decisions and adjustments will play out is unknown right now," said Teixeira. "However, if homebuyers have been waiting for the opportune time to enter the market, this may be it. Interest rates are low, there is ample inventory, and we are working in a known market. Who knows what fall will bring."
For additional information about financial implications of the economy on homebuying or San Francisco Bay Area real estate and relocation, call Mary Ann Teixeira at (650) 241-0318, or visit her website at http://www.maryannt.com.
About Mary Ann Teixeira
Mary Ann Teixeira is a licensed Bay Area REALTOR® with McGuire Real Estate in Burlingame, California who specializes in relocation services, homes for sale, and luxury homes. She is a seasoned buyer's agent who serves the San Francisco Bay Area Peninsula communities of Atherton, Burlingame, Cupertino, Hillsborough, Los Altos, Los Altos Hills, Los Gatos, Menlo Park, Mountain View, Palo Alto, Portola Valley, Redwood City, San Carlos, San Jose, San Mateo, Santa Clara, and Woodside.
Tagged with: Bay Area Realtor • Burlingame California • Business • Credit score • Economy • FICO • Financial • Home Sales • Industry • Lender • Loan Broker • Los Altos Hills California • Markets • Mortgage Loans • Mortgage Rate • Portola Valley California • Real estate • Redwood City California • San Francisco Bay Area • Stock market • U.S. Credit Rating • United States Department of the Treasury
Filed under: Real Estate
Like this post? Subscribe to my RSS feed and get loads more!