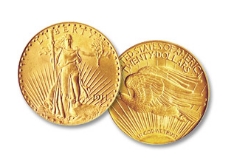 Aurum Advisors is now adding a counterfeit coin pamphlet with the free gold investors guide. "We want consumers to be able to determine on their own what the difference is between a good coin and a coin that is graded or slabbed by a subpar grading service," says Aurum Advisors President, Marc Lubaszka. It is uncommon for investors to receive counterfeit coins as long as they stick with the two most prestigious grading services in the nation, which are the Professional Coin Grading Service (PCGS) & Numismatic Grading Corporation (NGS).
Those are the only two grading services that are used in the new pamphlet, and pictures are provided of what each sonically sealed container that encapsulates each coin looks like. The guide also contains the par code that corresponds to each coin and the hologram that guarantees the authenticity.
"It's important for investors to feel confident when they purchase gold coins, so we felt it was important to add something to our free gold guide that shows them what they can expect to purchase before they decide to buy," said Lubaszka. "Even if a consumer doesn't buy from us, after getting our free gold guide they will be more prepared when purchasing gold from another dealer."
For more information and to receive the free gold guide, please visit http://www.goldcoinsgain.com/.
Tagged with: Antiques and Collectibles • Asset Management • Aurum Advisors • Binary Options Trading • Business • Capital market • CBOE • CME • Coin • Commodities • Counterfeit • Currency Market • Financial Services • Forex • Futures • FX Market • Gold • Gold coin • Industry • Inflation • Interest Rates • Markets • NYSE • Professional Coin Grading Service • Recreation • ROI • SEC • Shopping • Silver • World Coins
Filed under: Business