A strategically designed commercial workout that combined loan modification, bankruptcy, and a "White Knight" investor saves country club from imminent foreclosure and breathes new life into a 50-year old San Rafael institution.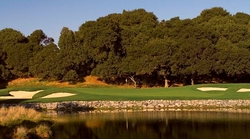 Peacock Gap Country Club & Spa
In the end the loan was "crammed down" from approximately $12 million to $3.4 million, a reduction of 71%
Breakwater Equity Partners, a consulting firm specializing in commercial loan workouts, announced today the successful restructuring of Peacock Gap Country Club and Spa, a 50-year old golf course located in San Rafael, CA. Foreclosure on the 137 acre, 18-hole golf course was averted when a new investor purchased the defaulted note from the lender, Nara Bank.
The property was previously owned by Peacock Gap Properties, who purchased it in 2005 for $10 million with plans to make major improvements to the golf course and clubhouse. The owner took out an additional loan for $6 million from Los Angeles based Nara Bank to perform the upgrades in 2007. After completing the golf course makeover the economy and the real estate market took a financial tumble. With the steep drop in golf revenues, the owner began to struggle. By 2008 Nara Bank refused to provide funding for the clubhouse renovation. This led to the cancellation of event contracts and memberships at the club, causing further financial distress.
With the asset under serious threat from the bank, the property owner sought out the expertise of Breakwater Equity Partners. After a thorough examination and analysis of the financials, local market conditions, and the property's bankruptcy and litigation exposure, Breakwater Equity Partners executed a workout strategy. That strategy leveraged significant litigation claims (including a lawsuit alleging damages of more than $20 million against the lender), a Chapter 11 bankruptcy filing, and the deal economics.
"A lot of people were caught off guard by the sudden collapse of the economy and real estate market. I know we weren't the only ones hit hard," said George Lee, previous General Manager of Peacock Gap CC. "We have extensive experience in the hospitality industry and thought we could ride it out. We felt we had solid, personal relationships with our bank and tried to work with them. We heard about Breakwater and engaged their services. Our bankers of 30 years would not listen to us, but Breakwater instantly got their attention. They got us an incredible resolution that I believe no one else could."
With the leverage of substantial litigation and the pressure of a Chapter 11, Breakwater Equity Partners worked with a "White Knight" investor who purchased the note on terms favorable to the client and acceptable to the bank. In the end the loan was "crammed down" from approximately $12 million to $3.4 million, a reduction of 71%. Subsequently, the ownership of Peacock Gap was transferred after bankruptcy court confirmation of the reorganization.
"Peacock Gap is a beautiful property and we are delighted with this outcome," said Phil Jemmett, CEO of Breakwater Equity Partners. "We believe that the local community will be very happy with the stewardship of the new owner. Breakwater is actively performing commercial workouts nationwide across all asset classes, but completing a workout on a golf course like Peacock Gap requires specialized knowledge, as golf courses are a specialty asset with unique attributes. Numerous golf courses are in trouble, either in foreclosure, bankruptcy proceedings or behind on their loan payments. Golf course owners are now facing difficult challenges and do not know how to resolve their financial problems. In many cases, a loan workout may be the answer to their ultimate survival."
About Breakwater Equity Partners
Breakwater Equity Partners is a privately-owned real estate consulting firm located in San Diego, CA, providing commercial loan workout strategies and negotiation services to property owners and investors throughout the U.S. The Breakwater team, consisting of experts in finance, banking, real estate and law, has worked on over 175 commercial loan workouts throughout the US, with deep experience in a wide variety of real estate classes, including office, industrial, retail, multi-family, mixed use, master-planned communities, residential and land development, golf courses, and farming operations. Breakwater also specializes in Tenant-in-Common loan workouts. For more information on Breakwater Equity Partners, please call 858-490-3630 or visit http://www.breakwaterequity.com. Read our blog at http://www.breakwaterequity.com/blog
Media Contact
Victoria Cunningham
victoria(at)breakwaterequity(dot)com
858-490-3630 x112
Tagged with: bankrupycy • Business • California • Commercial property • Commercial Real Estate • Debt restructuring • Foreclosure • Golf Course • Investment Property • Loan • Loan Modification • Peacock Gap Country Club • Real estate • Real Estate Investing • Real estate investment trust • REIT • San Diego • San Rafael • San Rafael California • United States
Filed under: Real Estate
Like this post? Subscribe to my RSS feed and get loads more!